10. Ramona Falls
Mount Hood Wilderness, Oregon, USA Ramona Falls is located in Oregon's Mount Hood Wilderness and consists of a 120-foot long fall that draps across a stepped cliff and basalt column. This particular waterfall has a beautiful shape that, due to lava eruption, could leave you breathless! This is a great tourist spot and hiking place with over 7 miles of trekking.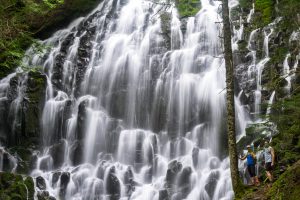 9. Duden Waterfalls, Turkey
Duden Waterfalls is a combination of different waterfalls on Duden River in Antalya, Turkey. This city is one of the most popular cities and tourist attractions with beautiful resorts and numerous excursion trips to this beautiful waterfall which falls from the Duden River to the Mediterranean Sea through rocky cliffs which make beautiful scenery and tourist destination for all ages.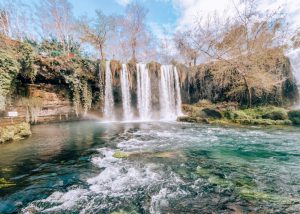 8. Joganda Gundi and Gersoppa Falls, India
Jog Falls is India's largest and highest waterfall, formed in Sharavathi River and falls from a height of 253 metres, which is why this waterfall is one of the world's most beautiful waterfalls. This particular waterfall is the main source of energy and the famous tourist attraction, because of its powerful view. The power plant has a capacity of 120 MW and has been operational since 1948 making it one of India's largest hydro-electric power plants.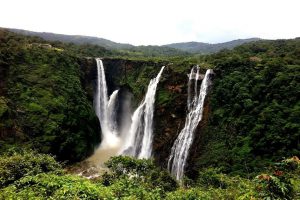 7. Yosemite Firefall of Horsetail falls
Such unique waterfalls are beautiful, holy sight that you must see once in a lifetime. If the conditions are perfect you will have the chance to see a free-fall down the cliff for 1500 feet. Although it looks like lava or fire this is falling water and there is no great scientific explanation for this particular formation.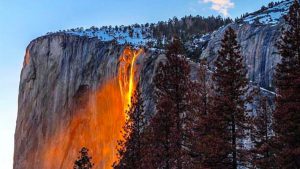 6. Godafoss, Iceland
Godafoss waterfall is better known as gods waterfall, it is one of the world's most beautiful waterfalls and the most beautiful in Iceland. The Skjálfandafljót river provides great fall from 12 meters and spread over 30 metres. Christianity reached Iceland at the beginning of the 10th century, and since this waterfall was the main version of their Norse gods, they decided to note that they once had different religions and called it Waterfall of gods.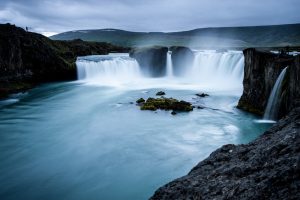 5. Huangguoshu Waterfall, China
Huangguoshu waterfall, or better known as Yellow Fruit Tree waterfall, is China's highest and most stunning waterfall, and is located in East Asia next to Baihe River in Guizhou Province. It is more than 75 meters high and 100 meters wide, however it could be seen from various places, they constructed a viewing pavilion from which visitors can look at the entire waterfall.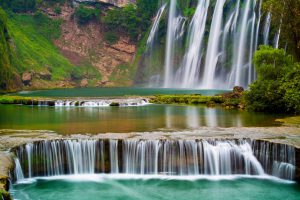 4. Detian Falls, Vietnam
The Detian Waterfall is one of the most impressive and majestic waterfalls on the border between Vietnam and China. It is 30 meters long and is known for making amazing thundering sounds when water hits the wall, making it a great tourist destination and one of the world's most beautiful locations. These cliffs were hideouts of numerous local bandits and yet there are trails in cliff caves that you can find gold.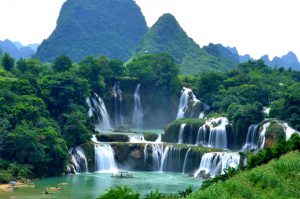 3. Victoria Falls, Zambia
This is perhaps one of the most popular and widely known waterfalls which is also known as Thunders ' Smoke. It is 108 meters long which makes it one of the largest waterfalls in the world and of course one of the most stunning. This stands on two countries ' border, and is considered a national treasure and a great escape from the modern world. David Livingstone, the person who was the first visitor and builder of this beautiful waterfall, named it after Queen Victoria.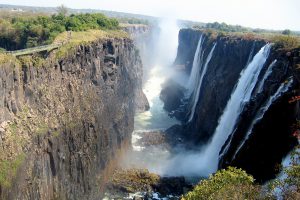 2. Iguazu Waterfall, Argentina
Iguazu Waterfall is situated on the Argentine-Brazilian border and consists of more than 270 falls that extend over 2,7 km from the Iguazu River. There's a story that it was set up by a god who wanted to marry a girl named Naipi, but she fled in a canoe with her husband and the god made them immortal by splitting the river into 275 spectacular falls.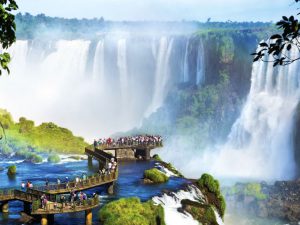 1. Niagara Falls, Canada
This is the world's most popular waterfalls on the Niagara River, and is 175 feet long, straddling the Ontario and New York borders. It is split into two sections: The American side of the border falls on the American side, and the Canadian side of the Horseshoe Falls. It is a famous and popular tourist attraction and has had a large source of worldwide hydroelectric power production.