We're presenting a list of tourist places in Thailand, so you don't just stay put at Bangkok and see the varied colours of the Land of Smiles. Explore beyond its capital, this land of smiles radiates a concoction of flavours such as culture and history, full moon parties, exotic beaches, enticing floating markets, and more. Unpredictably lavish, yet largely wild – there's a lot to Thailand!
Phang Nga Bay
A seductive and angelic bay flanked by Phuket, Phang Nga and Krabi, Phang Nga Bay is one of most scenic places to visit in Thailand. Here, the only thing you will feel like doing is to dive into the emerald-green water. Phang Nga Bay is a mere 95 kilometres from the aforementioned places and has a popular island called Khao Phing Kan also known as James Bond Island (as some part of the Bond movie, The Man with the Golden Gun was shot here). One of the prominent scenes in the movie showed a glimpse of a sea stack called Ko Tapu, which now is quite famous amongst tourism. At the bay other attractions to see include aquatic grottoes, limestone caves where you can even kayak and explore the clastic rock ceilings.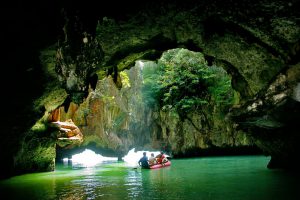 Grand Palace, Bangkok
As the sun sets, the golden pagodas illuminate the city of Bangkok. A visit to Thailand's capital without paying a visit to the Grand Palace is similar to that of not visiting Taj Mahal when in Agra. Tucked in the walled-in complex, the Grand Palace is a famous attraction that draws tourists from every corner. Located on the bank of River Chao Phraya, the complex houses a series of halls, pavilions, wats and other buildings intermixed with sprawlinglawns, impressive courtyards and lustrous gardens. It offers a picturesque setting, perfect to take stunning photographs. The famous attraction in the vicinity is the Temple of the Emerald Buddha, it is located to the left as soon as you enter from the main Visetchaisri Gate.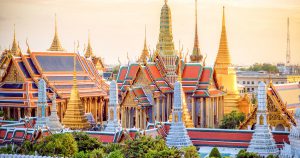 best place to visit in thailand
Ayutthaya Historical Park, Ayutthaya
Ayutthaya Historical Park displays the ruins of once the largest cities in the world, Ayutthaya. What's so interesting about this place is that it displays brilliant examples of Thai art and today, a section of this historical site is under UNESCO protection. The secured attractions in the Ayutthaya Historical Park include Wat Ratchaburana, Wat Phra Sri Sanphet, Wat Mahathat, Wiharn Phra Mongkhon Bopit and Wat Phra Ram. Out of which, the famous place is Wat Mahathat, the main attraction here is the head of Buddha that protrudesout from the branches of a tree, this probably is the most photographed object in the park along with Wat Yai Chai Mongkol. Nonetheless, this restored city allows the visitors to experience a wide-range of Thai architectural styles enclosed with an array of fossils and wats giving an eclectic mix of feels.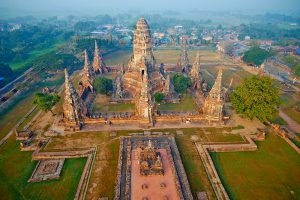 Best Time To Visit: November to February
Best For: Temples
Bangkok (The City of Angels)
The capital city of Thailand is a must-see for sure. If you're arriving by air, chances are you'll be landing in Bangkok, but if you come to Thailand by boat, train or bus from a neighbouring country, make sure you make your way to the big city.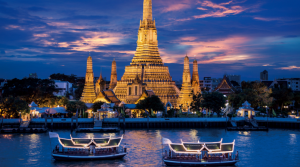 Bangkok is unlike any place we've ever been to – it's a city that never sleeps. The streets are bustling with people going to work, vendors selling their goods, and motorbikes zipping by. The street food in Bangkok is the best in the country, the parties and nightlife are amazing and there's a unique blend of modern commercialism and historic sites.
Best Time To Visit: November till early December
Best For: Shopping, Nightlife
Hua Hin
Want to travel and vacation like the locals do? Hua Hin is one of the places to visit in Thailand to do just that! This is a popular weekend destination for Thais and expats, and if you're looking for the best beach on the mainland, this is where you'll find it. Hua Hin's sandy stretch is 8 kilometers long, and if you arrive during the week, you'll basically have the place to yourself.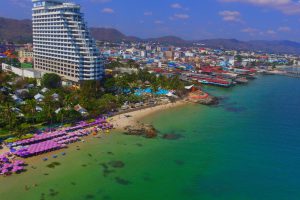 Don't miss Chopstick Hill and the Wat on top, the night market, the floating market, the historic train station, the nearby Rajabhakti Park and the popular Cha-Am resort area (which is around 20 kilometers north).
Beaches
Of the many popular tourist places in Thailand, the beaches of the country top the list. Go snorkelling among the shallow coral gardens at Mu Ko Ang Thong, swim around the sea cliffs of Krabi – which is amongst the best must visit places in Thailand, indulge in scuba diving at the wild white beaches of Ko Lipe, dance around with gentle sharks at Kao Tao and Ko Pha – Nigam, learn about the gypsy life from the fishermen in Trang, gaze at the sun reflecting off the white sand at the Hua Hin.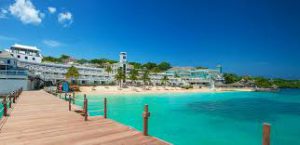 Best Time To Visit: November and April
Best For: Sunbathing, coral gardens, snorkeling
Thailand Holiday Packages On TravelTriangle
Experience thrilling adventure sports, enjoy Thai cuisines, or pamper yourself with a relaxing spa. Book Thailand holiday packages on TravelTriangle and enjoy the beauty of the beaches of Krabi, Phuket, and Ko Samui.
Floating Markets
Floating markets are the top tourist attractions in Thailand. Damnoen Saduak Floating Market is the most famed tourist spot as it proudly embraces the title of being 100 year old. Some of the other famous floating markets are Taling Chan Floating Market, Tha Kha Floating Market, Amphawa Floating Market and Ayutthaya Klong Sa Bua Floating Market.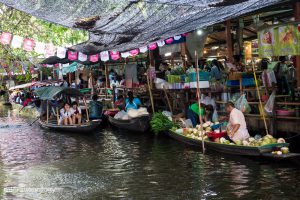 Best Time To Visit: All throughout the year
Best For: Souvenirs, trinkets and groceries
Full Moon Party
On a full moon night a group of tourist stumbled upon Koh Phangan and felt that it had the most splendid full moon. And to pay homage to it, they organized a full moon party along the beach of Haad Rin. Henceforth, people from across the globe come to party here. Put on your dancing shoes and explore other parties such as Half Moon, Black Moon and Shiva Moon. This is surely one of the most happening places to visit in Thailand for bachelors!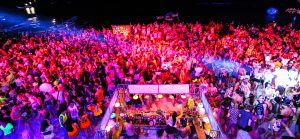 Best Time To Visit: November till January end
Best For: Nightlife and drinks
Mu Ko Chang National Park
Soak yourself in this jewel of 50 islands. Spend your mornings with wilderness and bookmark the evenings for the thriving parties. Cherish doing nothing on the white sand beaches and then break the day's rhythm with snorkelling and diving. From being around the whimsical waterfalls to fishing to diving to kayaking, do something new every day. So, while you're wondering what to do in this scenic place, try exploring one of the best places to visit in Thailand!
Best Time To Visit: December to March
Best For: Wildlife and views
Chiang Mai Night Bazaar
The shining star in Thailand's night sky is the Chiang Mai Night Bazaar. It sweeps across several city blocks embracing footpaths, inside buildings and temple grounds. Pick up handicrafts, arts, clothing's, souvenirs from here. This market was the stopping point of Yumnanese trading caravans along their ancient trade route between Siama and Mawlamyaing. So, while you're out and about, make sure you explore one of the best shopping places to visit in Thailand with friends. Apart from the nightlife, it has many other things that it offers to the tourists who come to visit this place. One such thing is the awesome food that it has. If you are a real foodie and love to try new food, then you are going to love this place. Along with the continental food, this place gives you some really awesome Thai food that is worthy of a try. It has been said that once you will eat the local cuisine that the restaurants here offer you, then you will become a fan of that food. Not just the food, this place has become the hub for the wanderers.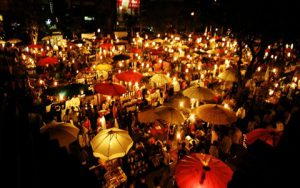 Best Time To Visit: All throughout the year from 6 PM till 12 AM
Best For: Shopping
Koh Tao
This place is perfect for the person who loves scuba diving. One cannot just do the diving for fun and with the help of an instructor, but can also learn it by doing a diving course at a very reasonable price and with the help of a really good and admirable instructor. The best part about learning to dive is that one does not need to go to the pool and can actually learn it in the sea only. It may be sounding bit difficult and indifferent, but is actually very easy and one will enjoy here more as compared to the pool. If you are a person who is not much into these water sports then you can go for trekking and all as there are some good trekking sites also. Even if you do not like trekking and hiking also you can go to the various beaches that are on the island and can chill over there. So, together we can say that this island has at least something for every person of different taste and this is that one thing that makes it the place that one must visit whenever they come to Thailand.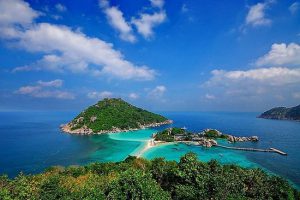 Best Time To Visit: March to May
Best For: Beaches, swimming, snorkeling
Erawan National Park
Erawan Falls owe their name to the three headed white elephant of Hindu mythology – Erawan. Walk around this impressive seven-tiered waterfall and spot macaques and water monitor lizards. Whilst exploring this park, stop at Tham Phra cave. And if geology is your area of interest, analyse the visible fault lines of the cave. Another spot can be Si Nakharin. This is amongst the most beautiful tourist places in Thailand.
Best Time To Visit: November to January
Best For: Wildlife
Temples
The magnificent tourist attractions of Thailand can soak you in the quintessential Thai culture. Pay homage to its glorifying temples – visit the birthplace of traditional Thai medicine and healing – Wat Pho. It is also home to the famed reclining Buddha. Be mesmerized by the three meter tall gold statue of Buddha that weighs 5.5 tons at Wat Tramit. Also, seek blessings at the Wat Benchamabophit. If you're looking for a sacred site in this stunning land, well, this is surely one of the most peaceful places to visit in Thailand!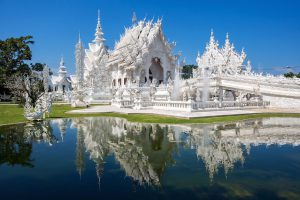 Best Time To Visit: March to August
Best For: Architecture
Island Hopping
Sail through Thailand and find out what makes it truly enchanting. Relax on the yacht's deck, order delicious Thai cuisine for lunch and in the evening swim through the secret spots. The tour takes you through Phuket/Phang Nga Bay, Phang Nga Bay, Phang Nga Bay/Railay Beach, Railay Beach/Ko Phi Phi, Ko Phi Phi/Ko Yao Yai, Ko Yao Yai/Phang Nga Bay and Ko Phi Phi/Phuket.
Best Time To Visit: November till April
Best For: Beaches, marine life, snorkeling
Khao Lak
Khao lak is among those beautiful, but unlucky islands which were almost destroyed by the Tsunami waters in the year 2004. This was ruined almost completely, but then has been restored back now. The beauty of this place may not be the same as it was before, but it no less. The authorities has set up a museum kind of place for the people to empathize with what had happened back in 2004. Apart from this, the reasons why one should visit this place is that there is everything that an ideal island should give to its visitors. It offers you everything that you need to chill. The island is located in the Andaman Sea. Not just the chilling ventures, but the beaches of Khao Lak also offers you amazing water sports out of which scuba diving is among everyone's favourite. So, if you are up for some underwater experience, then you can come to this place to learn scuba diving from some good instructors.
Best Time To Visit: November to February
Best For: Water sports, marine life