Pump up the cardio and strength training. We're here to help you choose the right fitness tracker for observing your heart rate and improving your exercise routine.
 1.Moov Now
Great battery life
Light-weight
Limited features
No screen
The Moov Now is our favorite fitness band in the world right now. The best part is the price, which justifies the quality and features it comes with. It doesn't end there, as the band promises to offer a six month-long battery life.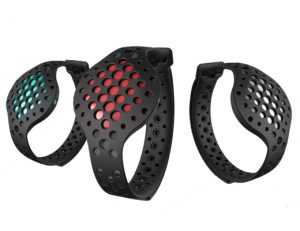 On top of sleep monitoring features, the lightweight fitness band also comes with boxing and rep-based training with a dedicated swimming feature on top of basic sleep and steps tracking.
One compromise that you have to make is the GPS, but the price makes up for it.
2. Samsung Gear Fit 2 Pro
Samsung comes in a close second place
Screen: Yes, 1.5-inch AMOLED | Heart rate tracker: Yes | Waterproof: Yes | Activity tracking: Yes | GPS: Yes, through phone | Battery life: 3 days | Compatibility: Android/iOS
The Samsung Gear Fit 2 Pro hasn't made any hefty changes to the company's wearable line since the Gear Fit 2, but there are a few improvements to an already great tracker that seats it in second place.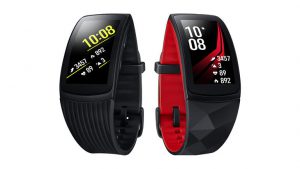 The Gear Fit 2 Pro has a gorgeous design that looks fantastic on your wrist and it sports a big, beautiful AMOLED display which lets you see all of your stats nice and clear.
It also comes with GPS built-in so you can leave your phone at home while you go for a run as well as a top-notch heart rate sensor that should give you one of the most accurate readings possible from a wrist-based tracker. Plus it will track your swimming too.
3. Garmin Vivosmart 4
Pairing the Vivosmart took a few attempts—if you run into this issue, try taking your tracker off the charger and then plugging it back in to reboot it. Once we got it up and running, the Vivosmart quickly grew on us. Along with screen taps and swipes, it uses arm gestures to turn on. This is a nice feature if you can't manage to tap the screen while running on the treadmill .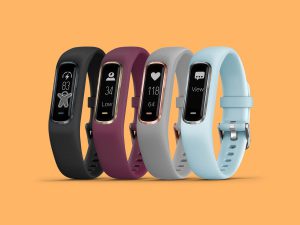 Garmin Vivosmart 4 features
Heart rate monitor
Altimeter
7-day battery life
Sleep tracking
Stress monitoring
Wearable while swimming
Grayscale screen
Compatibility with Android, iOS, and Windows
One thing we'd change about the Vivosmart is the screen size. It's just a tad too small, and we found it difficult to get our swipes and taps in just the right spot. But if you prefer a band that doesn't get in the way, the Vivosmart's slim design fits the bill.
The feature that caught our interest most was Garmin's Body Battery tracker. It measures your energy via indicators like heart rate variability, stress, and sleep quality. The idea is to identify when your body is at high energy levels and ready for a workout versus when you need rest and relaxation.
Along with the Body Battery, the Garmin Connect app lets you track a variety of activities, compete in virtual races by connecting to Strava, and track calories by pairing your account with MyFitnessPal.
Despite not having built-in GPS like pricier Garmin fitness trackers, the Vivosmart still offers robust fitness tracking for your average athlete.
4. Huawei Band 2 Pro
A slim, capable wearable with impressive battery life
Screen: Yes | Heart rate tracker: Yes | Waterproof: Yes | Activity tracking: Yes | GPS: Yes | Battery life: 21 days standby | Compatibility: Android/iOS
Huawei Band 2 Pro is a sleek little fitness tracker that packs tons of features into its compact size and comes at a reasonable price.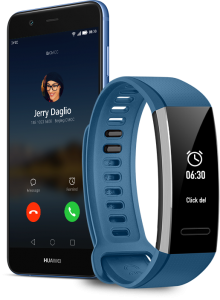 The Band 2 Pro has heart rate monitoring, VO2 max, GPS, step and sleep tracking and a seriously impressive battery life. The slim screen means that this tracker will work just as well with running gear as it will with a business suit, although it isn't going to be as easy to read as some of the competition.
So if you are on a lookout for a fitness device that promises accurate and precise metrics, then you might have to consider the option above but its slim, compact body at this price point is not for someone who wants to buy their first smartwatch.
5. Amazfit Bip
Looks like a smartwatch, but it's more fitness tracker
Screen: Yes, black and white | Heart rate tracker: Yes | Waterproof: Yes | Activity tracking: Yes | GPS: Yes | Battery life: 1 month | Compatibility: Android/iOS
This may look more like a smartwatch than any of the other devices on this list, but as it runs its own software and has a very big focus on fitness we've decided to include it in our list of the best fitness trackers.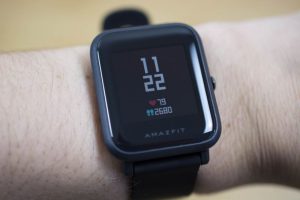 The Amazfit Bip design has been influenced by the Apple Watch (there's no denying that) and it comes packed with tons of features including GPS, an accurate heart rate tracker, multi-sport tracking, sleep tracking and VO2 Max features too.
If you're looking for a more watch-like design than everything else on this list, the Bip will be up your street. It's lightweight too and other highlights include the always-on display and strong battery life that should last around a month depending on your usage.
If this all sounds good, you'd be hard pressed to go wrong with the Amazfit Bip. It's worth noting the fitness tracker isn't available in all markets at the moment though and you may struggle to find the Bip where you live.
6.Misfit Shine 2
The Shine 2 ships with a clip and strap, and you can change the settings to attach to shirts, waistbands, shoes and pockets, meaning buggy-pushing parents can get credit for their walks – a common request in Wareable's comments.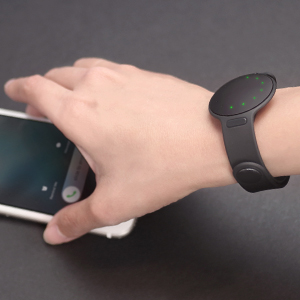 But where the Shine 2 really impresses is data accuracy. When we put the Shine 2 up against a GPS running watch there was 0.1km difference in the readings, and the same goes for step and sleep data too. It works in the pool and can track basic swims, the only downside is that there's no heart rate tracking. If you can live without that feature, then it's still worth considering.
Step tracking
Works as a clip on
Sleep monitoring
Swim tracking and 5ATM water resistance
Six month battery life
iOS and Android
7. Fitbit Versa
For my money, I think the Fitbit Versa is the best looking fitness tracker out there. And, overall, the feature set of the device is very strong. Versa has a hell of a lot of cool stuff going for it. It's basically a slightly underpowered smartwatch.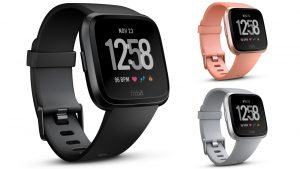 But therein lies the problem. If you spend your life sitting on the fence, you'll get splinters in your bum. The Fitbit Versa is doing so much other stuff that it seems to have forgotten it's primary purpose: tracking your fitness.
Never is this more clear than when you want to see your step counter or heart rate measurements. Accessing these metrics on every other device on this list is instantaneous but the Fitbit Versa has to load the results, taking a second or two to buffer before showing you what you need. This is the same with every single 'app' on the Fitbit Versa.
The load times aren't very long at all, two seconds maximum. But they feel longer than they should. The whole point of a fitness tracker is that it does everything you need it to very quickly and easily, with no fuss, so you can get back to working out.
This can be partially resolved by downloading a different watch face through the accompanying app. Most of the designs will show steps or exercise goals or whatever else you need, but it really should be default. I picked a nice colourful one with all my measurements on it which you can see in the picture above.
If you can get past those irksome load times, the Fitbit Versa is a good device. But it lacks of the precision of a fitness tracker and the wide utility of a smartwatch. It's not necessarily bad, just caught on the fence.
8. August Smart Health Wristband
The August Smart Health Wristband is a fairly average, budget device. You get what you pay for I suppose, but I was very impressed with Moov Now which costs the same, while this one was decidedly so-so.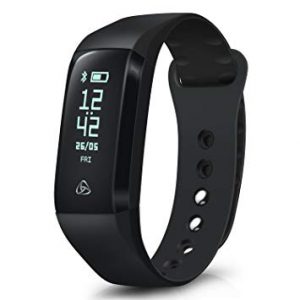 The watch strap feels cheap and stiff. Get past that and you find the device has a weird interface. The whole thing is controlled via a 'button' which is, in fact, just a part of the screen. You tap the button to flick between the different metric displays. Skip past the one you wanted and you've got to cycle through all of them again.
Still, in terms of tracking your movement, it does a serviceable job, putting all the information into reasonably pleasant bar charts so you can see where you've got to and how that compares to the average.
Unfortunately, the rest of the app is poor. You can only enter your height and weight in centimetres and kilograms, respectively, even after choosing to display measurements in other metrics. After entering my birthday, the app told me I was a year older than I am. Given that, I'm not sure I'd trust it to track my vital statistics.
9. Polar A370
The wrist strap on this thing was a source of annoyance every time I put it on. Two elastic bands hold the loose end of the strap down but they're difficult to maneuver into the right position. It all feels a bit cheap and nasty.
As for the watch itself, it's decidedly fine. Despite having a touch screen you have to turn it on with a button, which is located on the side of the strap at the bottom left. It's a bit of an annoying position but not the end of the world.
The key selling point of this watch will be the training mode. There are a few standard default options but you can load more onto the device through the app covering basically every kind of exercise you can imagine.
Most of the actual legwork is done through the app which is… difficult. The opening screen is a borderline-incomprehensible line graph charting your activity. It's helpful to a point. You could recognise which parts of the day you sit down most commonly and plan to do more activity in those. Then again I work in an office, sitting down is part of my job, I already know my most sedimentary hours and there's not much I can do about them.
Really, the Polar A370 will probably be best for people who do a lot of exercise and a lot of different exercises. You'll be able to see which exercises you're exerting most energy, and how you perform on, say, a long run or cycle, for example. For the average user, the whole thing is a little too complicated and user unfriendly.
10. Matrix Powerwatch X
Features: Body-heat powered battery, pedometer, distance tracker, sleep tracker, calorie counter, time display, running mode, stop watch, online rankings, message display
It can be all too easy to forget to charge your watch and for that reason alone, the Matrix Powerwatch X's body-heat charging system could be a game-changer. As long as the watch is in touch with your skin, it will be charging, converting your natural body heat into electricity. And it works well: the watch never ran out of power during my time with it. Even if you do decide to take off the watch, Matrix claim the battery can last a year on a full charge.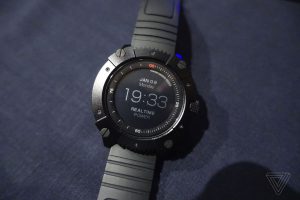 This is the Matrix Powerwatch X's most compelling feature and one which will make it absolutely ideal for frequent travelers who don't have the plug socket space to be charging their watches.
The design of the watch itself is not particularly pleasant. The strap is of very soft, rubbery plastic which feels cheap, and the watch face looks massive at over two inches across. More than anything though, the product is just ugly. It has unnecessary bezels, odd ridges, and loose, wobbly buttons that feel like they could fall off at any moment.
The accompanying app is a barebones experience, paling in comparison to the likes of Fitbit or Garmin Connect. Considering the price of the Powerwatch X, I would have expected a much better app with more charts and data and customization options.